Im BACK! 1-7-20

It's been a while! The past few years have been quite busy (to say the least!) Life gives and life takes; but you have to press on. I know it's been nearly 4 years since I've updated any new artwork to the site, but I have been working on new stuff slightly here and there. All of that will be put on here soon! A few new paintings, a LOT of ACEOs, and a couple illustrations. I hope you come back soon to check it out!

Free Comic Book Day 2016
Saturday, May 7th (11am - 9pm)

House of Heroes Comics + Games

407 N. Main St.
Oshkosh, WI
I will be there signing and selling copies of "TO THE END!" (FCBD Special: Only $15!)

(If you haven't gotten yours yet, now's the time!)
I will have the great binder of Drawn Original Trading Cards -- Only $10 each!
A collection of 24 Illustrated and Painted Prints (w/ 6 New Designs!) -- Only $15 each!
Plus! A FREE Mini Comic promoting the novel! (100% made by your truly!)
Limited to only 400 copies for the day! So, get there early!
Stop by, say hi to the other vendors, high five a few superheroes, and don't forget your

FREE COMIC BOOKS!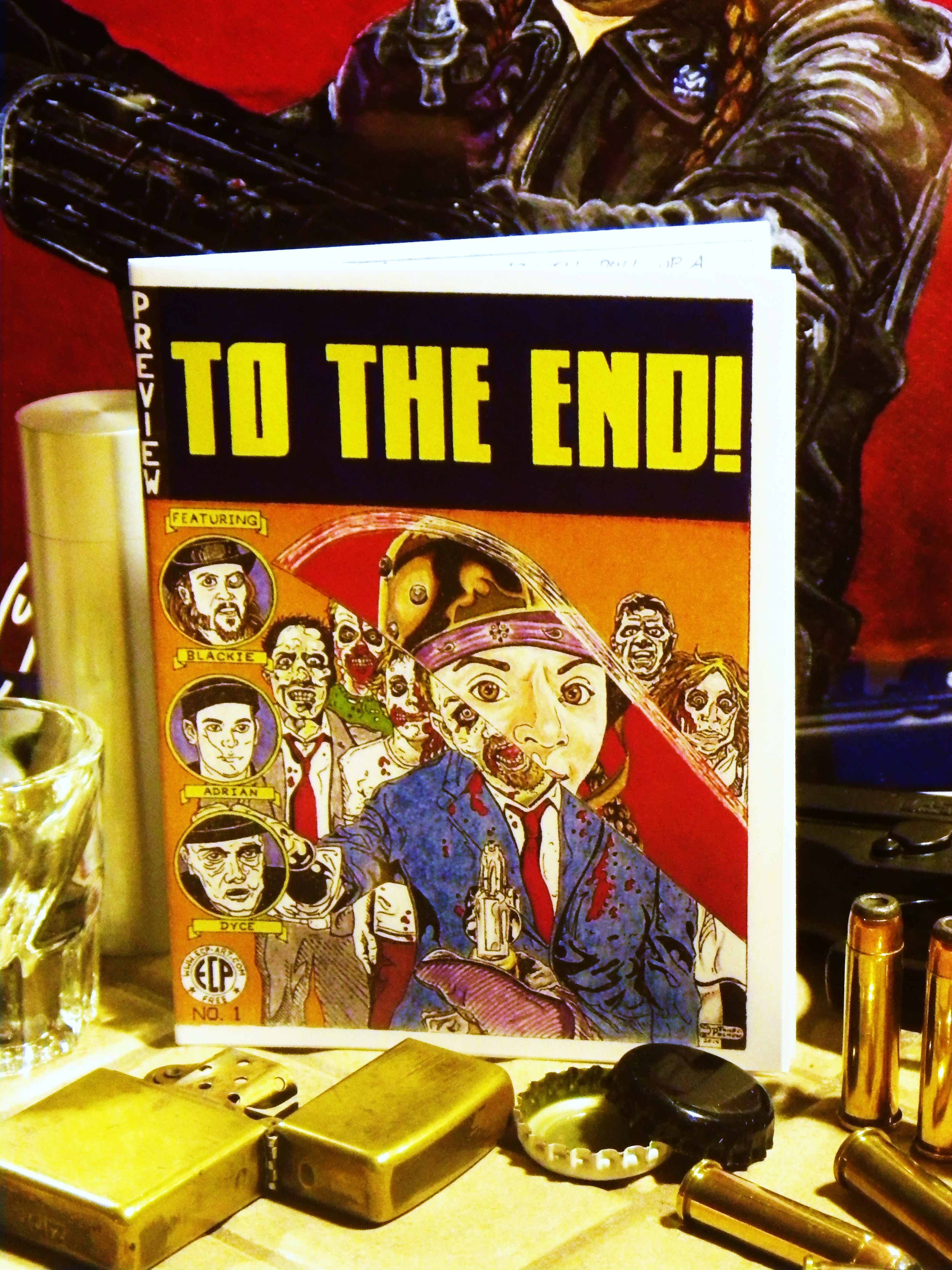 10-24-15

"To The End!"

BooK Release, art show, and signing!
Saturday, November 21st
The Union Hall
50 E. Bank St.

Fond du Lac, WI

After 10 years in the making, I can finally reveal to the world my world! A beautiful 386 page novel with 21 illustrations and one hell of a painted cover. A post-zombie apocalyptic horror/fantasy that has been eating at me and now will infect the rest of the world.

Come on down to the Fond du Lac Union Hall for a full scale art show featuring over 30 pieces of art from the interior of the book as well as even more "To The End!" artwork that ties into the tale!
Also, feel free to check out a table containing binders of even more of my art! Prints of paintings, illustrations, ACEOs, and sculptures! We will have music, snacks, refreshments, and great company!

Free to enter! All ages welcome! Book is 18+! Free Signatures! And maybe an after party as well!
Thanks for your support and I hope to see you there!

2-2-13
walking Dead limited edition prints!
I had a commission for a Walking Dead inspired painting (Acrylic on Matte Board) that looks like the poster hanging in the background on the set of Talking Dead. Based on the scene from season 2 where (SPOILER!) Sophia comes out of the barn.

It is entitled "FOUND"
I am doing an EXTREMELY LIMITED run of prints of this piece.

And I mean LIMITED!!! Only 13 prints will be made, signed, and numbered. Then, THAT'S IT!

"FOUND"
There are only 13 PRINTS!
Each print will be individually signed and numbered.
It measures 11" x 17" and comes fully framed.

Price is $150.00

Shipping and handling $16.00

When they are gone. They are gone.
TO ORDER YOURS:
NO LONGER AVAILABLE

Now until 11-21-12

CONTEST!!!!
I know it's been a long time since I've posted anything on here... But I've been mecha-busy dammit! Trying to get all of the art and the final draft completed, published and printed. Well, I'm realistic and I don't think I will get it available for purchase by my birthday, but so what? I've gotten so much done this year, I'm really confident I can have it completed at all!
So, here's where some fun comes in.

You have until 11-21-12 to submit your entry to:

I know there are a lot of you folks out there are super creative and artistically inclined. So, I'm holding a contest for those of you out there that share my love/fear of zombies.
And the prize is the ultimate display of your interest and talent in the matter.



What I'm asking for is for you to do your worst (best) zombie make-up effects of you or on a model. Submit your pictures to the email on this website (posted above) and I will select the best zombie faces to appear on the cover of my book!




Rules:



1. Originality here, no Fulci's Zombie or machete head (Dawn of the Dead) allowed. If you want to do something inspired by something like that; that is fine. But, do your own take on the idea.



2. Pictures must be pretty damn good resolution. And a bust shot of you or your model from rib cage to top of head and shoulders. (A portrait shot if you will).



3. Rotted. However rotted you want to be. A week since bit or a year. Just looking for a bit more than black and white grease paint here. But, if you can creep me out using just that; then by all means, go for it!



4. Your name and the name of your model. So, I can give appropriate credits to parties involved in the "Special Thanks" in the end of the book



5. RUN WILD WITH IMAGINATION!




Prizes!



1. The artists and models will have their names in the "Special Thanks" of the book at the end, (as previously mentioned) So, spell your names right when you submit!



2. I will select THREE to FIVE winners that will have their face/work appear on the cover of the book (In a painting form) as I will paint your faces on the cover!



3. The winners (artist and model) will receive a signed copy of the novel when it is eventually published and printed.




Terms and Conditions:
No Nudity. (It's the cover after all) But, if you want to send those pictures anyway. They won't win.
All pictures submitted will become property of ecp-art.com but all credit and names will be given to those who did the work. I'm not here to scam anyone. I just want to get more folks involved!
12-2-11
SUPER HOLIDAY SALE!

Now through the rest of the month!
For only $20 (plus $15 s&h)
You can get a Holiday Print SUPER PACK!
Includes:
1 Print of your choice (40 to choose from!)
1 Glass and Wood Frame (All ready to hang with the art inside!)
1 Nail (To Hang the Art right away!)
1 Limited Edition Poster!
1 1 1/2" Art Button of your choice (8 styles to choose from!)
1 Card or Magnet or Sticker (Varies by what's left that I can find!)
1 Surprise movie! (Format and genre vary by availability)
All wrapped up in:
1 Signed Skull Gift/Tote Bag!
That's a lot of stuff for $20! And you got something that isn't available anywhere!
Make it look like you went out of your way this year with this unique present pack at a penny-pinching price!
Live in the Fox Valley? Ask how you can save on shipping!

4-16-11
Announcement/Appearance!
Who? Myself, Comic Artist Brian Defferding, Bartlett's Buttons, And MORE!!!

What? FREE COMIC BOOK DAY!
When? May 7th 2011
Where? House Of Heroes 407 N. Main St. Oshkosh, WI

How? Run, Walk, Drive, Fly or Teleport!
Why? Free Comic Books! Special guests, Art galleries, Storm Troopers, Props, Sales, Good jokes and Good folks. Oh, and FREE COMIC BOOKS!!! I'll have a vendor's table there with a few (about 12 or so) select framed art prints, as well as a display of Handmade PEZ dispensers--ALL AVAILABLE FOR SALE!
Art Print Packs include a Framed Print, Skull Tote, and a button or magnet of your choice for only $20! (Limited styles available at show) and I'll be selling the hand sculpted/hand painted custom PEZ dispensers for the FREE COMIC BOOK DAY only sale price of only $20! (regularly $35-40) SO, if you want to check out some art, introduce yourselves to some cool people or just get some free comic books, then stop on by between 11 a.m. & 9 p.m. (I will only be there til 7 p.m.)

10-1-10:
Announcement!
Halloween Super Sale!
Greetings BOILS and GHOULS,
I thought that I would SCARE with you the DEnouncement of the
ecp-art.com
Shocktober Horrorween sale spooktacular!
Fright now until HOLLOWeen; all horror themed art prints come with a HACKAGE of goodies.
For only twenty dollars, you get the Art Print of your choice (over 50 to NOOSE from), you get framed, and it comes in a GAG full of even more surpRISES.
It will also include a 1½ inch art button (PICK from HATE different designs), a card, and the nail to hang yourself--excuse me… to hang it yourself with.
Also, I will be including a trick or a treat with every order. Not candy-- I haven't been able to that since I ran out of razor blades. But, a surprise movie with every order!
To brief: $20 gets you:
1 Art Print of your choice
1 Frame
1 1½ inch art button of your choice
1 Black "Skull" tote bag
1 Card
1 Nail to hang the art
1 surprise movie!
To order:
You can place an order right through myspace or facebook.
To check out the art just go to
www.ecp-art.com
to browse through all sorts of horrifying works. Or look through my myspace page!
Payment can be done via paypal if ordering through mail (7 dollars shipping and handling.) Or in cash if you live in the Fox Valley area. We can do the transaction in person on any Wednesday at House Of Heroes in Oshkosh.
Thanks for reading and remember to "Support Independent Art". (Sorry, I am all out of puns.)
9-30-10:
Announcement!

I started up a facebook account. You can add me or follow some goings on there. It's easy to find at: www.facebook.com/ecp.art

8-15-10:
Announcements!
SECOND ANNUAL OSHKOSH ZOMBIE WALK
"INFECTION"
September 4th, 2010
It's back!!! Show up in your best zombie make-up and costume to roam downtown Oshkosh, WI! The Horde will gather at 6:30 pm in the alley behind House Of Heroes Comics (407 N. Main St.). Contests and raffles will be held at the Official Zombie Walk After Party at the Time Community Theater from 8-11 pm. All Proceeds raised do to support the theater. Get creative and bloody! All ages Welcome!
I'll be donating a number of prizes for those raffles and contests! Food, Drink, Beer, and more was donated and (as previously mentioned) all proceeds go to the theater. The money goes to repair it as well as finance great things like "Friday Fright Nights" where they obtain and show show old horror classics on the big screen for FREE! (August 27th is "Night of the Living Dead"!) Come on out! It's a great time and and makes for future great times as well!
Piranha 3D

August 20th- and 3 weeks after that!
If you haven't heard about piranha 3D copy and paste this to check out the HD trailer: https://www.youtube.com/watch?v=SkF5VMRJGek
As you may have heard. It was rejected from San Diego Comic Con for being "too wild" so they chose a different venue to unveil a 9 minute clip. It has also been made public that a lot of Regal and Marcus cinemas will NOT be showing the film.
The Fond du Lac Theater (Located at 1131 W Scott St., Fond du Lac, WI) however, is an independently owned and operated theater. They've showed Boondock Saints 2, The Road, and Paranormal Activity, when no one else would touch them.

Recently obtaining the 3D technology (like I said, independently owned...) I wrote them a number of emails, organized a petition and we went back and forth via email. The FDL Theater is getting it! And despite it not getting released until August 27th-- It will be showing a full week before the release and 2 additional weeks after that!!! So come on out and check out a movie that no one wants you to see!

7-16-10:
Announcement!
oshkoshhorror.com and I conducted an interview for their "Bits and Pieces" segment. Check it out here!
http://oshkoshhorror.com/2010/07/12/bits-and-pieces-an-interview-with-erich-claude-polnow/
(Please copy and paste the above html... I still haven't figured out how to add links on here. Thanks.)

7-8-10:
Announcement!
Appearance!

Intergalactic Art Show
Trudy Anne's Bingo Hall
16 North Brooke St.
Fond du Lac, WI 54935

12-6pm
I and a lot of other artists will be there with independent exhibits. I'll be bringing a vast assortment of Art Prints for you to come view or for you to purchase if you like.

Bring a friend, family member or coworker. It should be a lot of fun. There will be snacks and there will also be folks collecting donations for ASTOP (Visit astop.org for more about that organization.)

6-9-10:

Started up this web site! ecp-art.com I know It's going to take a while to get this thing up and running the way I'd like it. But if you would like to get a sneak peek at everything that will be coming soon, then just go ahead and copy and paste:
http://viewmorepics.myspace.com/index.cfm?fuseaction=user.viewAlbums&friendID=289193981
to go to my already existing myspace. Which is pretty much an early draft of this site. Except it's free, up and running, and loaded with unrelated--but humorous vids.

Or just go to myspace.com/erich_claude_polnow

Thanks for visiting though!